What Mattress Size Are You?
Mattresses typically come in six different sizes: twin, twin xl, full/double, queen, king, california king. What size is right for you? That depends on how many, and the sizes, of the people and pets that will be sleeping on it. Here's a general breakdown.
Dimensions
What You Can Fit On There
Crib
28" x 52"
1 very small human
Twin
38" x 75"
1 small, short human
Twin XL
38" x 80"
1 small, tall human
Full/Double
54" x 75"
1 adult human or 2 small adult humans
Queen
60" x 80"
2 humans and 1 small animal
King
76" x 80"
2 humans and 1 Labrador or 1 child human
California King
72" x 84"
2 humans and 1 Great Pyrenees or 1 child human
Crib
Babies
Children, large pets
Twin
Solo, shorter sleepers who live in small spaces
Couples, tall humans, people who like to spread out wide
Twin XL
Solo, taller sleepers who live in small spaces
Couples, co-sleeping with large pets, larger solo sleepers
Full/Double
Individual adults, couples who like to get cozy
Couples who like plenty of space
Queen
Couples who want a balance between space and intimacy
Couples with large pets that sleep with them
King
Couples, small co-sleeping families, couples with pets
Anyone with limited space
California King
Tall couples, small/tall families, tall couples with tall pets
You live in a studio apartment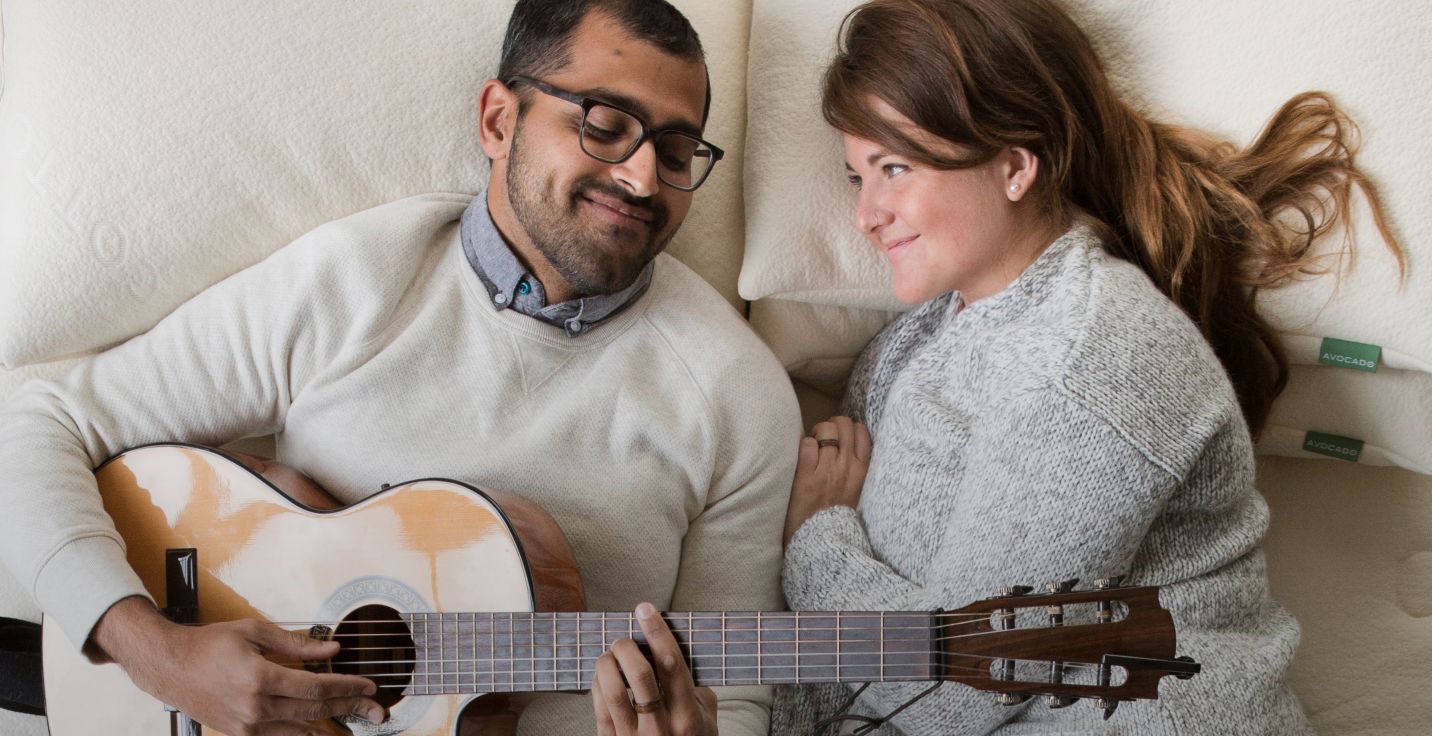 Some Popular Questions About Mattress Sizes
What mattress size should I get?
Twin mattresses are ideal for smaller individuals, or solo sleepers in small spaces, like a dorm, studio, or loft. Twin XL mattresses are five inches longer and the same width (38") as a twin mattress, so they are better suited for taller individual sleepers in tighter spaces. A full, also called a double, is ideal for individual sleepers with more space or smaller couples who like to sleep close together. A queen mattress is the most popular mattress size. It gives individual sleepers lots of space and, for most couples, the right balance of space and intimacy. A king-size mattress is perfect for couples who like to spread out in their own space, or those that also sleep with a pet or child. A California king, four inches taller and narrower, suits taller couples who like their own space or those that sleep with a pet or child.
Can two people share a full bed?
Couples commonly share full/double mattresses, but whether or not it's comfortable depends on the size of the individuals and the amount of space each requires to sleep well.
Is there a difference between a full mattress and a double mattress?
The term "full" is generally used interchangeably with "double." The standard size of a twin or double mattress is 54" x 75".
Will a queen size mattress fit in a full bed frame?
No, the dimensions of a queen size mattress make it too large for a full bed frame. A queen is larger than a full, so you'll need a queen size frame for your queen size mattress.
Which mattress size is the largest?
At 76" inches wide, a king size mattress is the widest size. A California king, at 80" inches, is the tallest mattress size. A California king is 72" inches wide — 4" narrower than a traditional king size mattress.
Are mattress sizes standard?
Mattresses sizes are consistent throughout the U.S. but can vary from country to country.
Will a full size mattress fit in an SUV?
A full size mattress will fit in some SUVs. If you're moving and your mattress does not fit inside your vehicle, you can safely secure the mattress to most large SUVs using tie-down straps.
Will a queen size mattress fit in a minivan?
Most queen size mattresses do not fit inside minivans or SUVs.