NEW!

Alpaca Wool Throws

Sourced from a high-elevation meadow in the Peruvian Andes, our Alpaca Wool Blankets are the picture of natural elegance — and incredible warmth. Made from 100% alpaca fiber, the blankets use the highest functioning natural alpaca wool in the world to augment any room with comfort and style.
NATURAL ALPACA WOOL,
AN ELEGANT GIFT FROM THE ANDES
Alpaca wool is a natural wonder, sought after for its delicate texture and unparalleled performance. Avocado Alpaca Wool Blankets are lavishly soft and highly breathable. All colors are the result of the 22 naturally occurring hues of alpaca — without the use of chemical dyes. The result is a luxurious blanket with a small environmental footprint, in line with our principles of sustainability.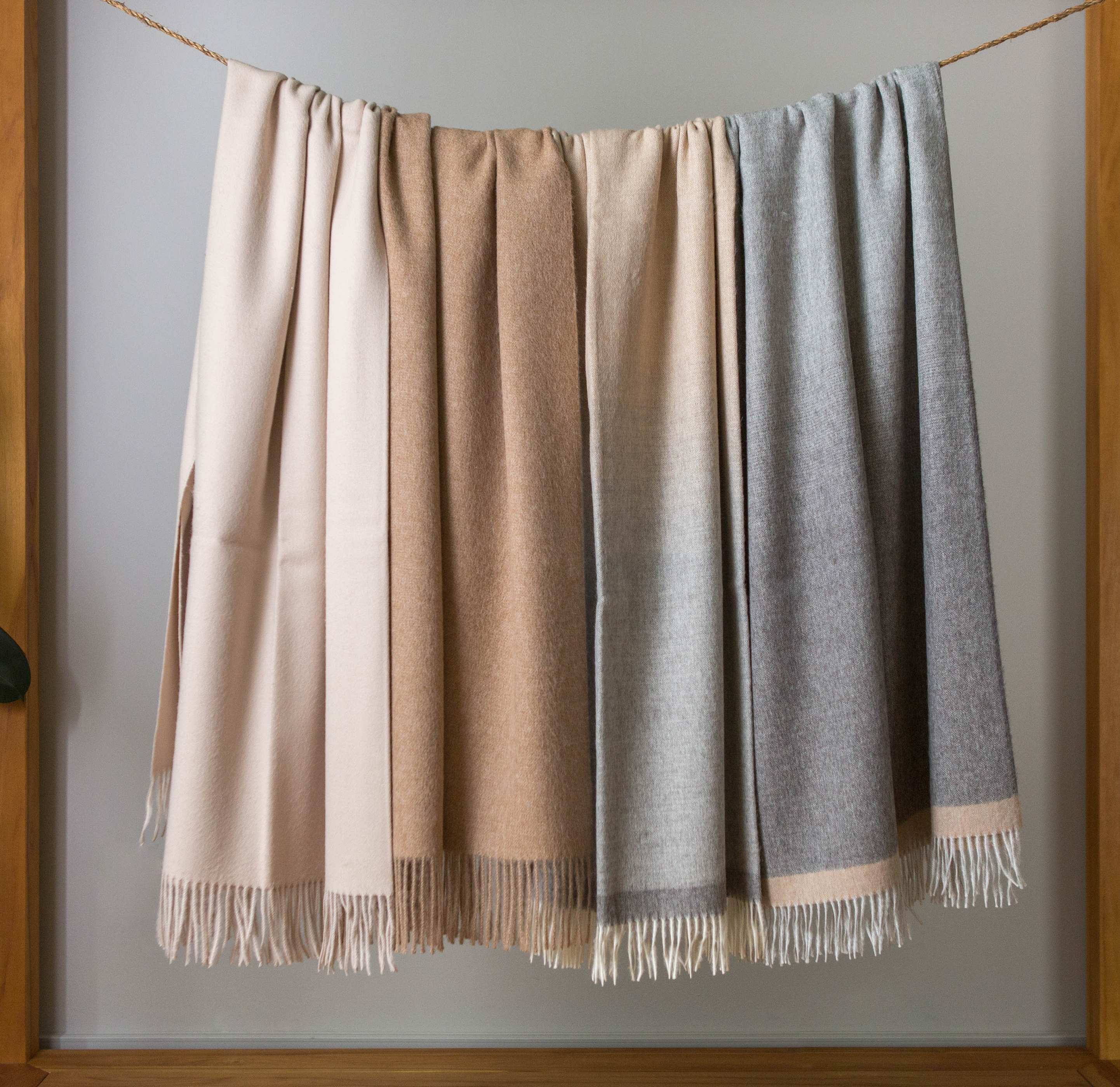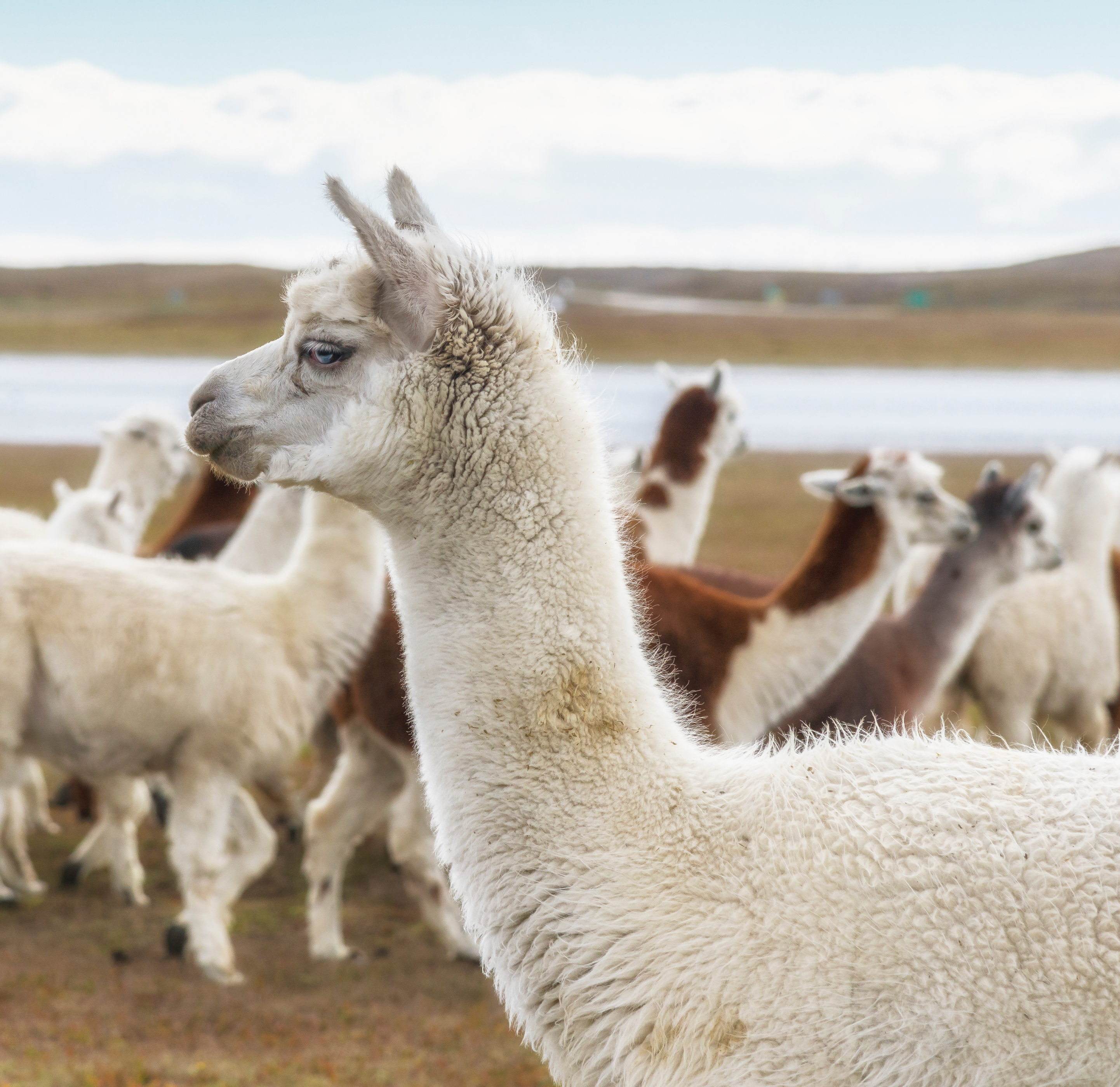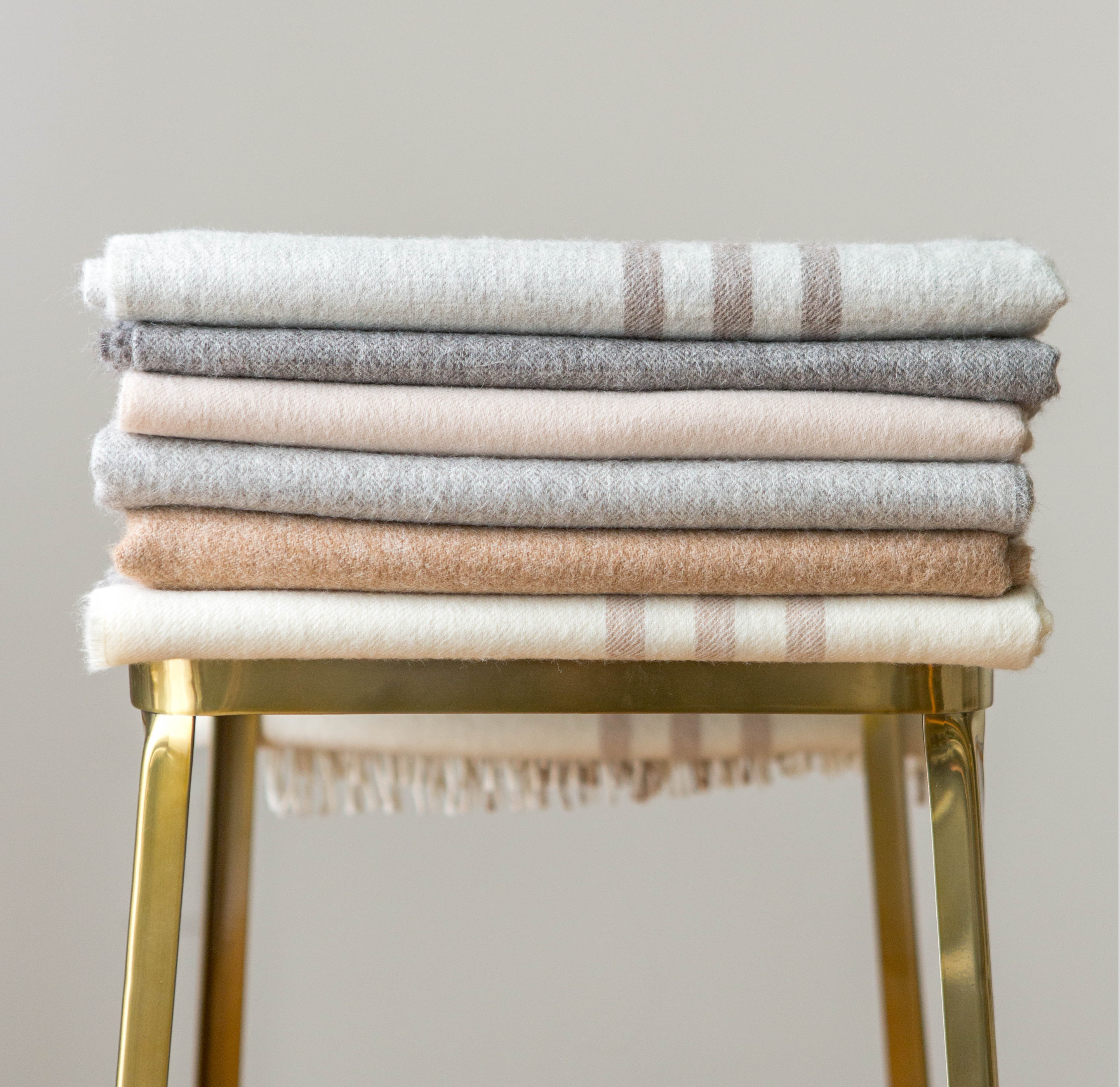 ROYAL FIBERS
Living in the harsh, wind-swept Andes at elevations above 12,000 feet, alpacas developed a highly sophisticated wool. It has the delicate texture of cashmere, the luster of silk, and the functionality of sheep's wool. It is lightweight, temperature- and moisture-regulating, flame-resistant, and antimicrobial. It isn't itchy and it's hypoallergenic. Once reserved for Incan royalty, alpaca wool is now one of the most sought-after fibers in the world.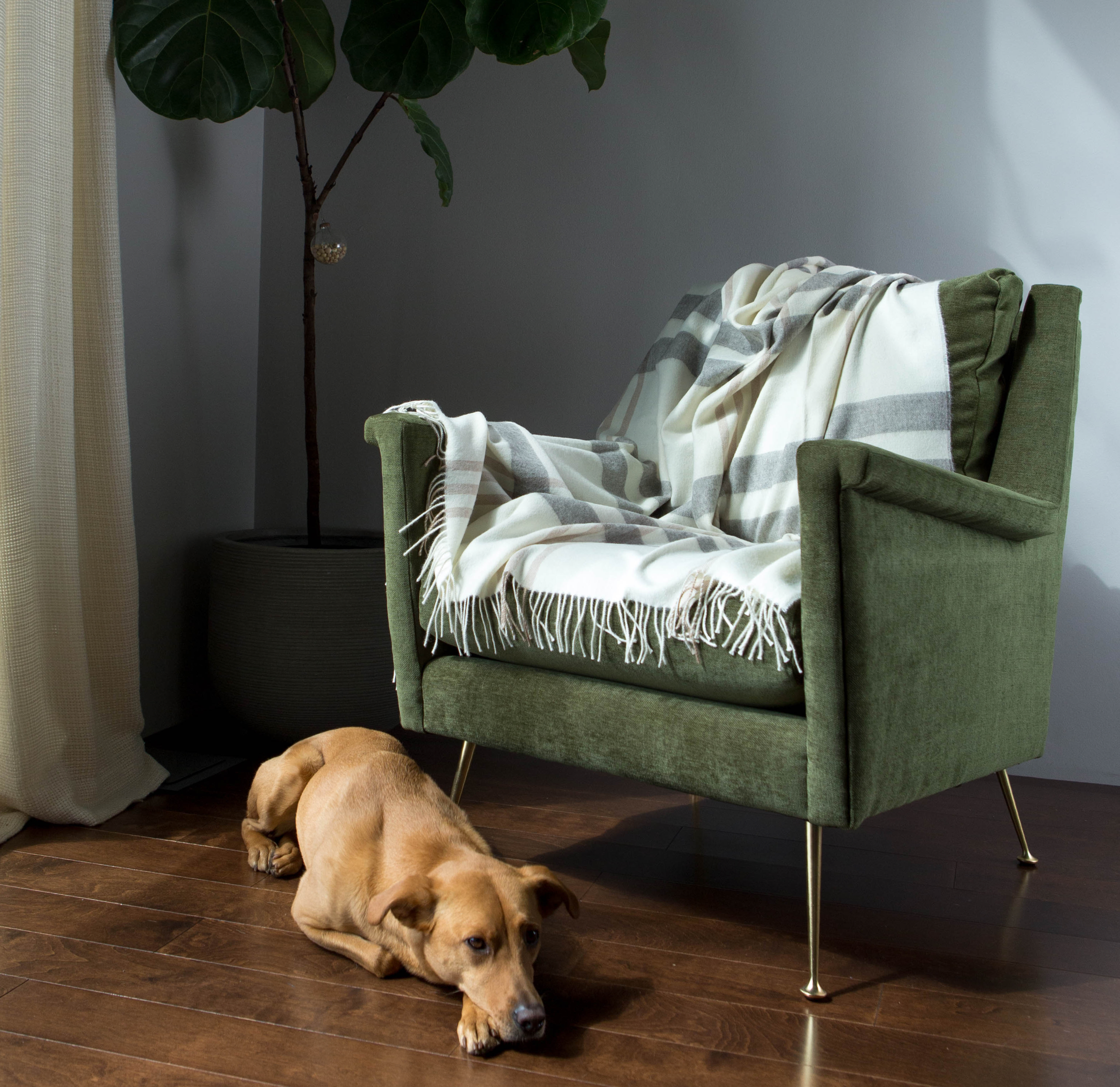 FINE FABRICS,
NATURALLY DYED
Avocado Alpaca throws are available in 12 distinct earth-tone colors and patterns. The fibers in our Alpaca Wool Blankets are naturally cleaned and dyed, without the use of harsh chemicals. In fact, because alpaca wool has a low grease content, fewer resources are needed to clean the fiber. Our plaid and ombre versions utilize "baby alpaca," which refers to the finest, softest fabric on the animal (typically the chest), and not its age. Baby alpaca is a more sustainable luxury fiber than merino or cashmere.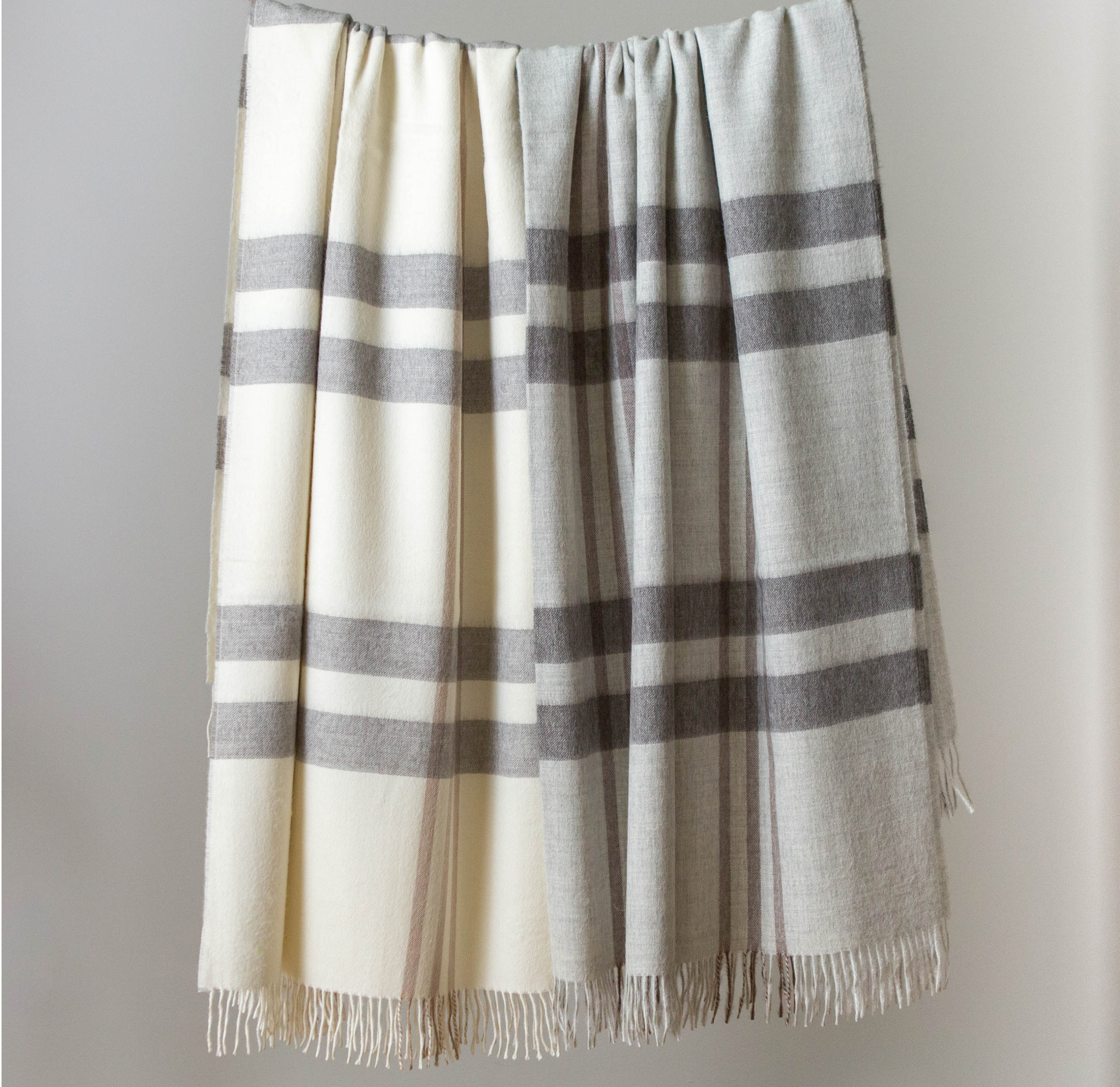 ETHICALLY-SOURCED
About 80 percent of the world's alpaca live in the Peruvian Andes. We source the fiber for our Alpaca Wool Blankets from Pacomarca — a sustainable alpaca network in Peru that ensures traceability. Farmers closely monitor the effect they have on water and land to mitigate impact. Our commitment to responsibly-sourced materials is part of the broader environmental mission that drives Avocado, including our entire product line, from mattresses to blankets to bed frames and bedding.
A CARBON NEGATIVE PRODUCT
In 2019, Avocado Green Mattress became the first mattress company to become Climate Neutral Certified, effectively making our business "carbon neutral." A year later, we took it a step further by going carbon negative — offsetting more carbon emissions than the company generates. Carbon offsets are vehicles for paying to remove carbon from the atmosphere or to prevent greenhouse gases from getting there in the first place by financing things like forest conservation or clean energy.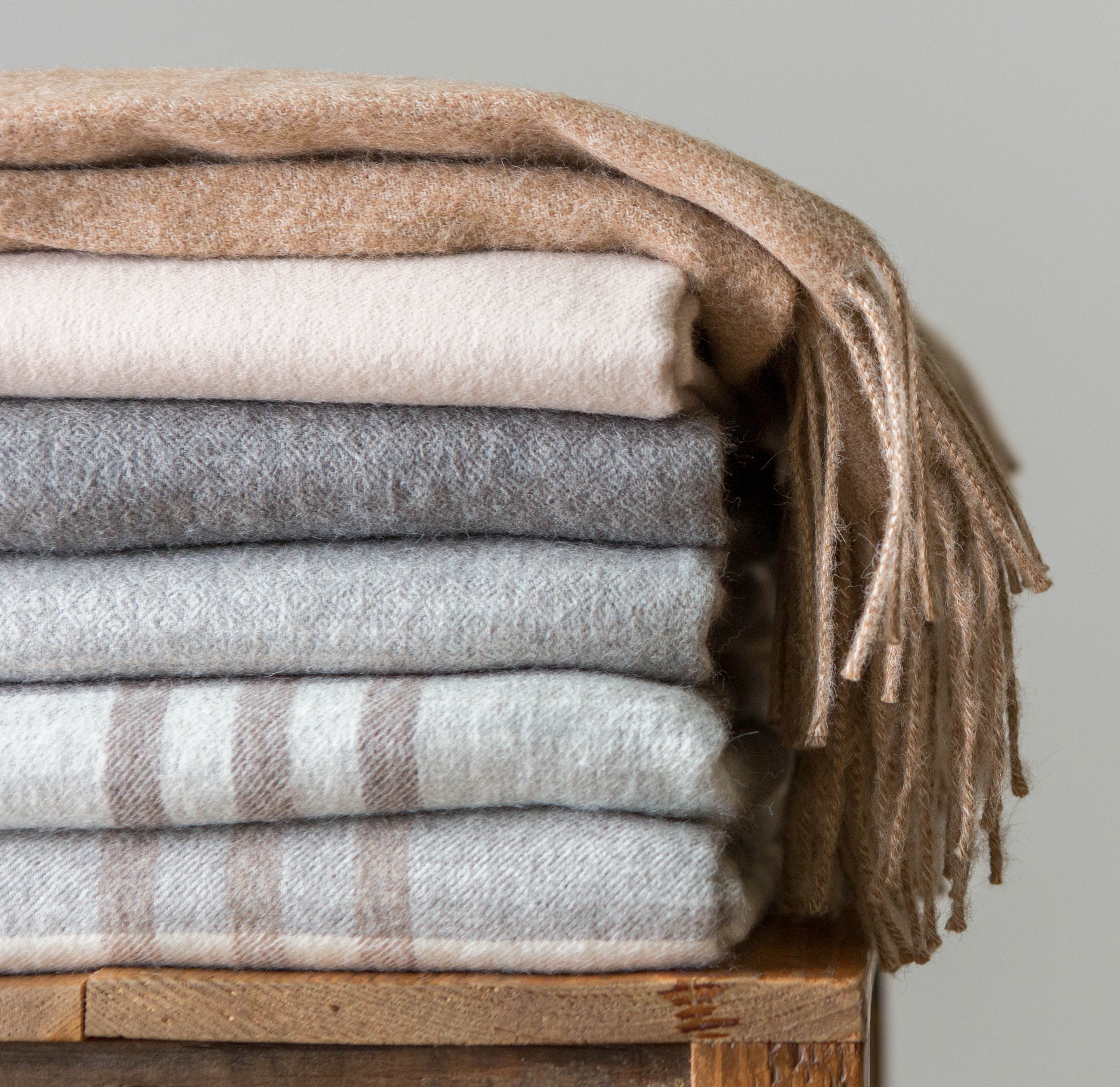 RADICALLY HONEST SPECS
Alpaca Wool Throw Blankets
Dimensions & Weights

180 cm x 130 cm, 1.2 lbs

Materials

Natural & Sustainable Alpaca Wool.
Natural & Camel: Made from 100% Alpaca. Alpaca is warmer and stronger than sheep's wool and grows naturally in different shades. Using alpaca fiber promotes sustainable agriculture in the Andes.
Plaids & Fades: Made from 100% Baby Alpaca. Baby Alpaca refers to softest hair on alpaca not the age of animal. Super soft to the touch.

Shipping

Our Alpaca Wool Throw Blankets ship via FedEx.

Care

Dry clean Only. For tips on how to green your dry cleaning, visit our magazine.

Return Policy

The Alpaca Wool Throws are covered by a 30-day return policy. Stained, unsanitary, or damaged throws are not eligible for return. The 30-day period begins after you receive your throw. During the trial period, if you decide that your Alpaca Wool Throw isn't right for you, please contact us. A member of our sustainability team will reach out and have it donated for a full refund. (Returned throws cannot be resold.) There are no charges for restocking or return shipping. Once we confirm receipt, you'll receive a full refund. The funds can only be returned to the original form of payment.
Exclusions: (1) Our serviceable area for complimentary returns is the 50 states of the United States only, including Alaska and Hawaii. If your throw is located outside the USA, you are responsible for any costs associated with return of the product. Avocado is not responsible for any costs incurred from repackaging and cannot reimburse customers for a replacement box or packaging services. (2) If you finance your purchase via Affirm, you'll receive a full refund less any applicable financing fees paid to date directly via Affirm. (3) Products must be in a condition suitable for donation to be eligible for return (i.e., no stains, tears, excessive odors or soiling). We request photo(s) to confirm that your throw is in appropriate condition to be donated. Protect your purchase by following the care instructions. (4) Our return policy is limited to one of each applicable product type per household. If you exchange a product, it ends your trial period for that product type (mattress, topper, base, sheets, protectors, pads, throws) and no other sleep trials are eligible for your household in the future for that product type. (The only exception is pillows, for which two may be returned from a single order, since they are often bought in pairs.) We define this household-wide policy by your customer name, or shipping address, or billing method/account or billing address.

Carbon Negative Production & Shipping

Avocado is a carbon negative business. That means we voluntarily offset more than 100% of our emissions, from resource extraction to shipping, by supporting carbon offset projects through the Bonneville Environmental Foundation. Our offset projects help mitigate climate change and support innovation in addressing greenhouse gas emissions reductions.
Learn More About Our Carbon Negative Initiatives
FINANCING AS
LOW AS 0% APR
We've partnered with Affirm®, so you can pay for your Avocado Green Mattress and bedding over 6, 12 or 18 months with rates as low as 0% APR with qualifying credit. At checkout, just select Affirm and enter some basic information for an instant loan decision.
Prequalify now
KULA PROJECT
FEATURED NONPROFIT
In 2018, through our partnership with Kula, we helped fund the Liddy Women's Center in Rwanda. A year later, we donated 20,000 coffee seedlings to 225 coffee farmers in the area. This year, we're honored to continue our support of the Kula Project, which is dedicated to empowering female entrepreneurs, providing business opportunities for coffee farmers and artisans, and creating change for a better future.