Organic Crib Mattress Protector
Our Crib Mattress Pad Protector is made with a gentle GOTS organic certified cotton ticking and an absorbent cotton fiber fill. Elastic straps provide a snug fit on top of your crib mattress, and make it simple to swap out and clean. It's the perfect complement to your
Luxury Organic Crib Mattress
or Affordable Green Crib Mattress.
RELIABLE, ORGANIC, SAFE
We don't use a waterproof plastic or polyurethane layer. Instead, we created a quilted, 100% GOTS organic certified cotton protector pad. Sewn in our GOTS & GOLS organic certified Los Angeles factory, these pads are moisture-resistant and stay snugly in place with four elastic corner straps. They are not waterproof. How many do we recommend? The time-honored mother's axiom says it best: "Three. One for the bed, one for the wash, and one for the shelf."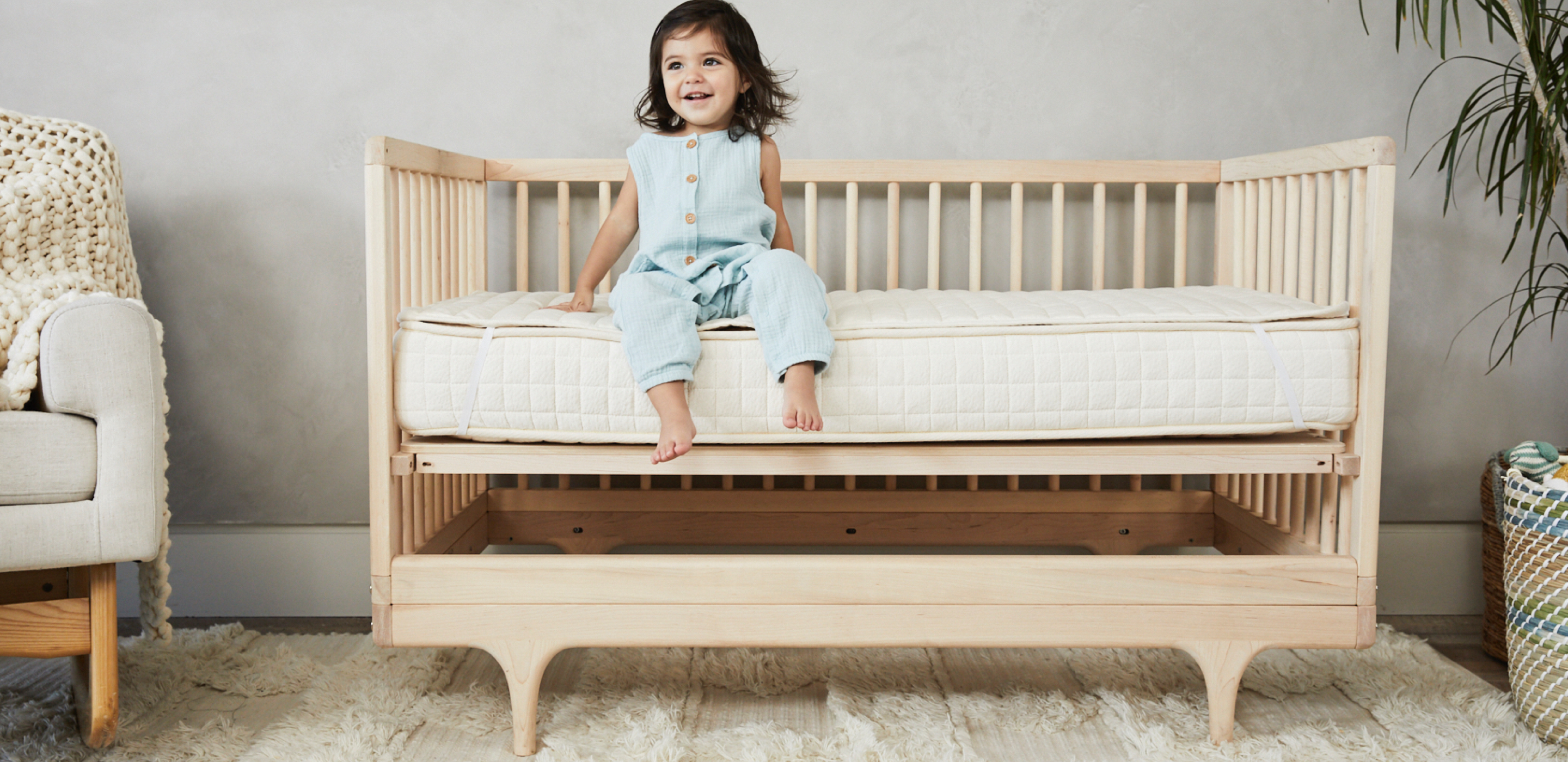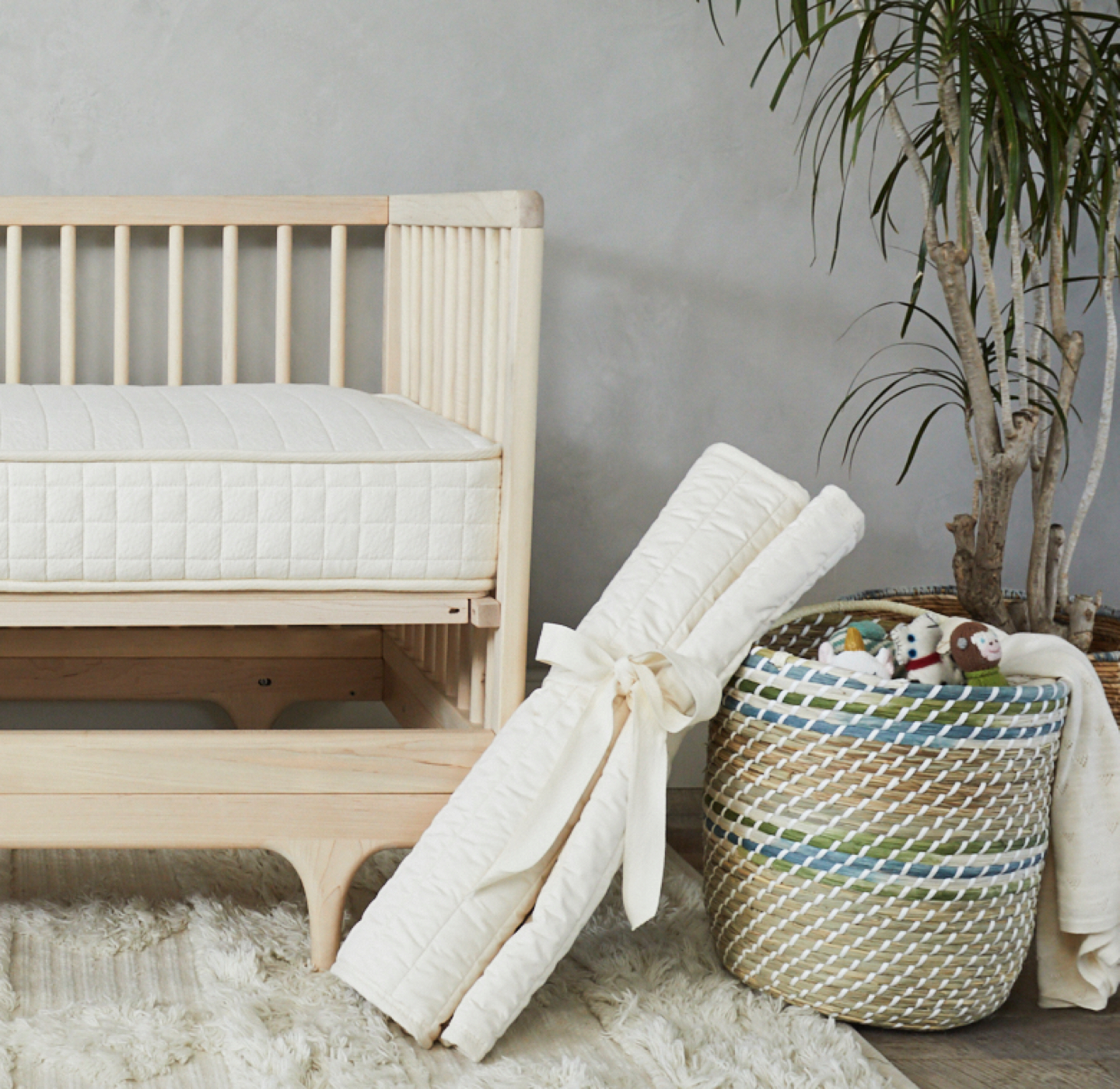 ESSENTIAL, SAFE PROTECTION
Protect your Avocado Luxe Crib Mattress or Avocado Green Crib Mattress the right way. No crude oil byproducts like polyurethane. No dense, crinkly layers. Just natural, moisture resistant, 100% GOTS organic certified cotton.
ORGANIC SLEEPS BETTER
Organic cotton is more durable, luxurious, and breathable. Synthetic fibers and cotton grown with pesticides can be stuffy, not to mention hazardous to your health and environmentally damaging. That's why we use 100% GOTS organic certified cotton. The material is responsibly and sustainably harvested in India exclusively for us without pesticides, herbicides, and fertilizers. This is better for you, the environment, and our farmers.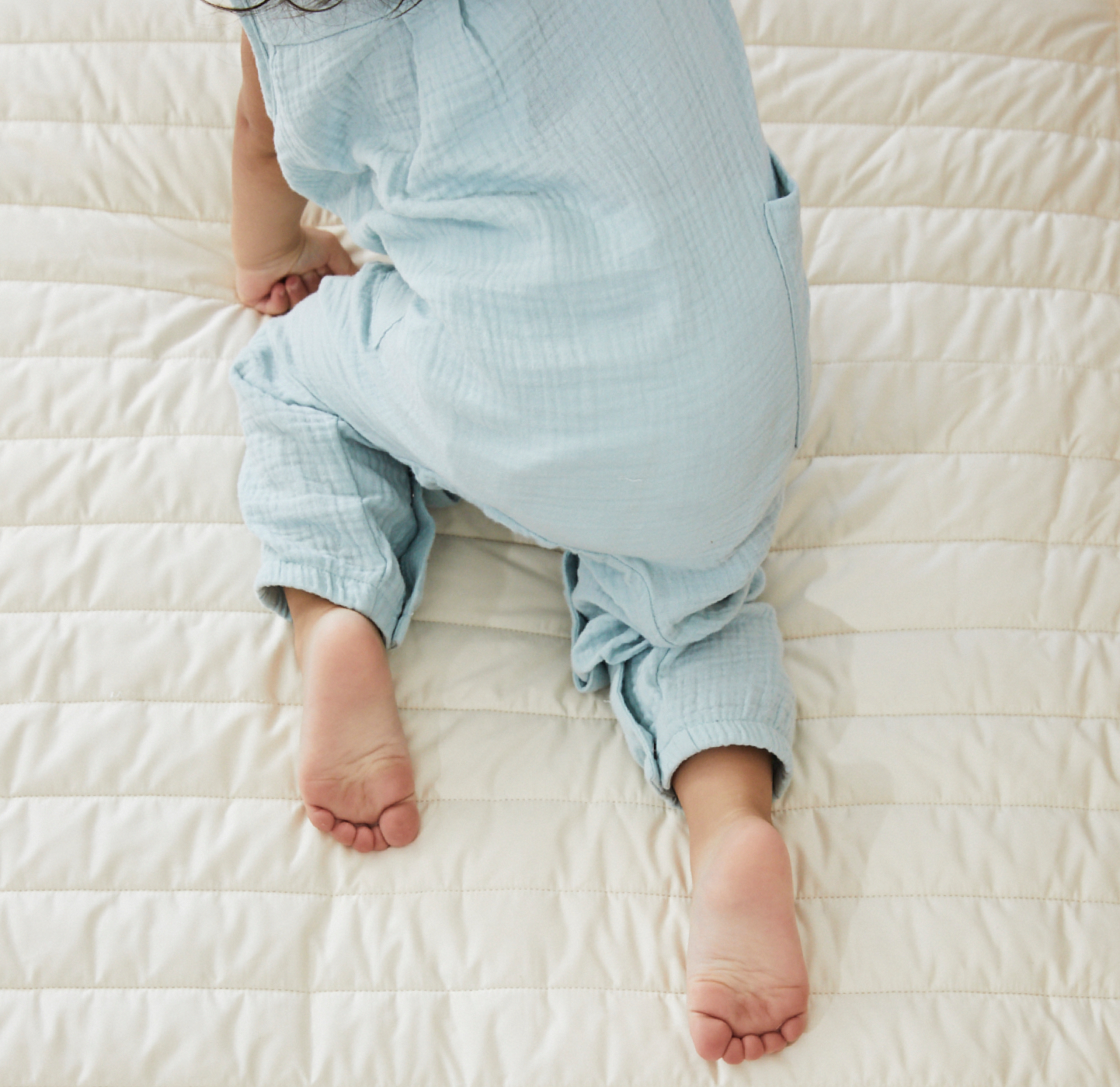 DEFEND YOUR MATTRESS
Rest easy. The absorptive natural fibers in our Crib Mattress Pad Protector are moisture resistant. The pad will protect your mattress from life's little accidents. Our organic cotton effectively wicks moisture while remaining breathable and cool to sleep on. That means a better night's sleep for you and your little one.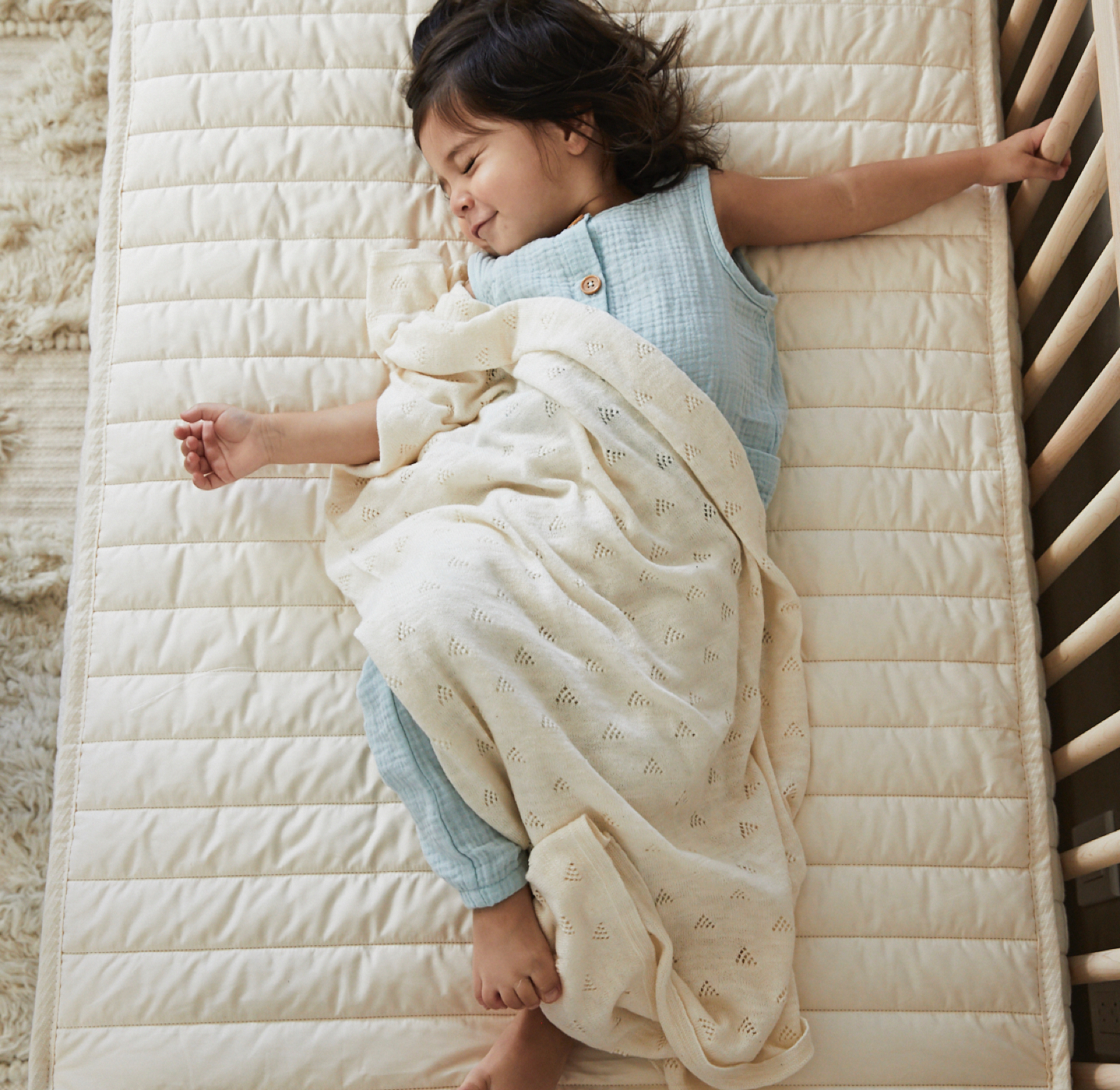 SIMPLE CARE
Simply spot clean or machine wash using an eco-conscious laundry detergent. Do not use bleach. Tumble dry on low or simply air it out on the line until completely dry. Don't worry, the internal fibers won't shift or get lumpy after laundering.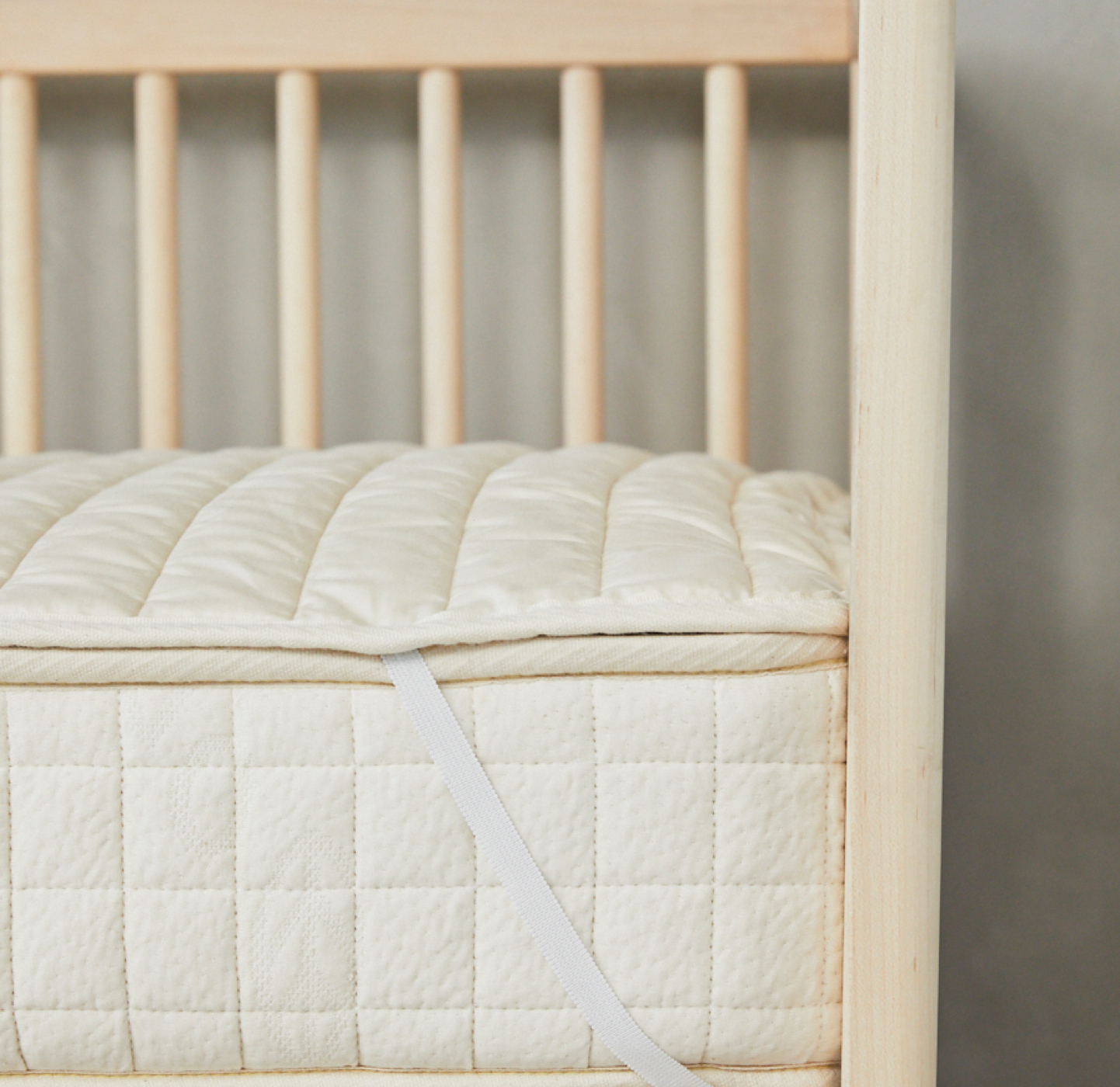 MADE IN CALIFORNIA
Our Green Crib Mattress is made in our GOTS & GOLS organic certified Los Angeles factory in Los Angeles. These certifications validate that we provide our factory team with fair wages, comprehensive benefits, and safe working conditions. GOTS also prohibits the use of the kinds of toxic chemicals commonly used in textile processing that can cause cancer, birth defects, and other serious illnesses. Of course, by using certified organic materials, we also protect the environment, our factory team, and you.
RADICALLY HONEST SPECS
Avocado Crib Protector

Crib Mattress Protector Pad: 28" x 52" x .5"
Fits Standard Size Baby Cribs.
GOTS Organic Certification from Control Union.
MADE SAFE® Certified

100% GOTS Organic Certified Cotton

We use 100% GOTS organic certified cotton in a soft, natural color. No polyester or synthetic fibers. Our cotton is ethically sourced from India. Our organic cotton has received STANDARD 100 by OEKO-TEX®: Class 1 certification (15.HIN.75800, Hohenstein HTTI), to ensure no harmful substances are present as a result of processing, to include banned substances, toxic chemicals, pesticides, and dyes. Even the green thread used in the stitching and logo embroidery is STANDARD 100 by OEKO-TEX® certified (94.0.6007, Hohenstein HTTI).

Safety Information

Use only a fitted bottom sheet that is specifically made for crib use, along with a mattress pad and/or a waterproof pad. Do not place stuffed animals, pillows, quilts, or comforters in the crib while your baby is sleeping, as they may prevent proper air circulation around your baby's face.
Side of crib removed for display/photographic purposes only. Cribs should be fully enclosed to ensure safe and secure sleep for your little one.

Warranty & Return Policy

The Avocado Organic Crib Protector is covered by a 100-night trial. Stained, unsanitary, or damaged crib protectors are not eligible for return under the 100-night trial. Returns are processed in accordance with the terms of our Bedding Trial Policy.

Carbon Negative Production & Shipping

Avocado is a carbon negative business. That means we voluntarily offset more than 100% of our emissions, from resource extraction to shipping, by supporting carbon offset projects through the Bonneville Environmental Foundation. Our offset projects help mitigate climate change and support innovation in addressing greenhouse gas emissions reductions.
Learn More About Our Carbon Negative Initiatives
GO GREEN, LIVE WELL!
FREE CARBON NEGATIVE SHIPPING
Our crib protectors ship for free via FedEx, compressed in a plain box, and typically arrive in about a week.
100-NIGHT TRIAL
If you decide your Avocado Crib Protector is not right for you, simply return it for a full refund.
1-YEAR WARRANTY
Rest assured: You're buying a handmade, green product proudly crafted in the USA.
KULA PROJECT
FEATURED NONPROFIT
In 2018, through our partnership with Kula, we helped fund the Liddy Women's Center in Rwanda. A year later, we donated 20,000 coffee seedlings to 225 coffee farmers in the area. This year, we're honored to continue our support of the Kula Project, which is dedicated to empowering female entrepreneurs, providing business opportunities for coffee farmers and artisans, and creating change for a better future.